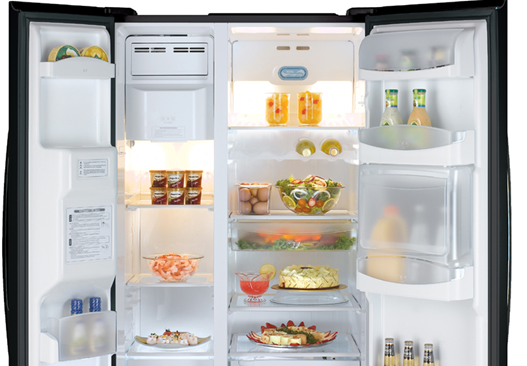 You have started clipping coupons and have managed to significantly trim your grocery bill. You've found ways to save on healthy and nutritious foods, for your whole family. You have even found ways to make healthy foods palatable to even the fussiest of eaters.
So don't undermine all of your hard work with poor food storage.  It may seem like a no-brainer: frozen food goes in the freezer, cold foods go to cold storage, and everything else goes into the cupboards or pantry.
But did you know that the inside of the refrigerator has warm spots? Or that storing cheese in plastic is not the best idea?
Every day we make seemingly minor food storage mistakes that can lead to faster spoilage and greater waste. And, in the worst case scenario, it can jeopardize food safety.
Keep meats, fish, and poultry in the original packaging, whenever possible. Transferring these items from container to another increases the risk of bacterial contamination, or cross contamination.  However, you can put the unopened meat package inside a sealed plastic bag to prevent juices from dripping onto other foods, or onto the refrigerator shelves.
If food does drip into the refrigerator, clean it up immediately to prevent cross contamination.
If you absolutely must transfer meats to another container, like for freezing smaller portions, transfer them as quickly as possible and freeze them immediately.
If you have to transfer different meats, work with one meat at a time and wipe down surfaces to prevent cross contamination.
Keep soft dairy products, like yogurt, milk or cottage cheese, in their original containers. If you transfer a portion to a serving container, do not return the unused portion to the original package. Either wrap the serving container in plastic or throw the unused portion away.
Keep hard cheeses in the original container until you use them, then wrap them in wax paper before putting them inside a plastic bag. If you are storing the cheese for more than a few days, consider storing it in wax paper only. The wax paper will protect the cheese from exposure to air, which can dry it out; but prevent excess moisture, which can cause mold growth.
Do not wash produce until you intend to use it. Washing can leave moisture on the product, causing faster spoilage when it's stored in the refrigerator.
Store leftovers and used food in air-tight containers and label them with the date that you packaged them.
The door, and the area near the light are the warmest parts of the refrigerator. Only use these areas to store items that do not need to be kept at a more constant temperature.
Refrigerate leftovers within two hours of preparation. And allow hot foods to cool inside the refrigerator, not on the counter top.
Periodically clean your refrigerator and pay close attention to the rubber gasket around the door. That gasket is what creates the seal and keeps your food fresh. Dirt on the gasket can disrupt the seal.
Do not overfill your refrigerator. The cold air needs room to circulate to be most effective.   Conversely, keeping your freezer full will actually help it run more efficiently.
Only use your refrigerator freezer for short-term storage – foods that you plan to use within the month. Use a separate freezer for long-term storage, and open it as little as possible to maintain the interior temperature.
The fact is, there are more ways to protect your food investment than can be listed here. But agencies like the UK Food Standards Agency and the US Department of Health and Human Services, both offer a wealth of food safety information for you and your family.